Well, "With Your Shield" my first novel, written with Chris Kennedy released Friday, with what I consider AMAZING success. On the first day, we hit #1 on the charts in our category, which was completely unexpected!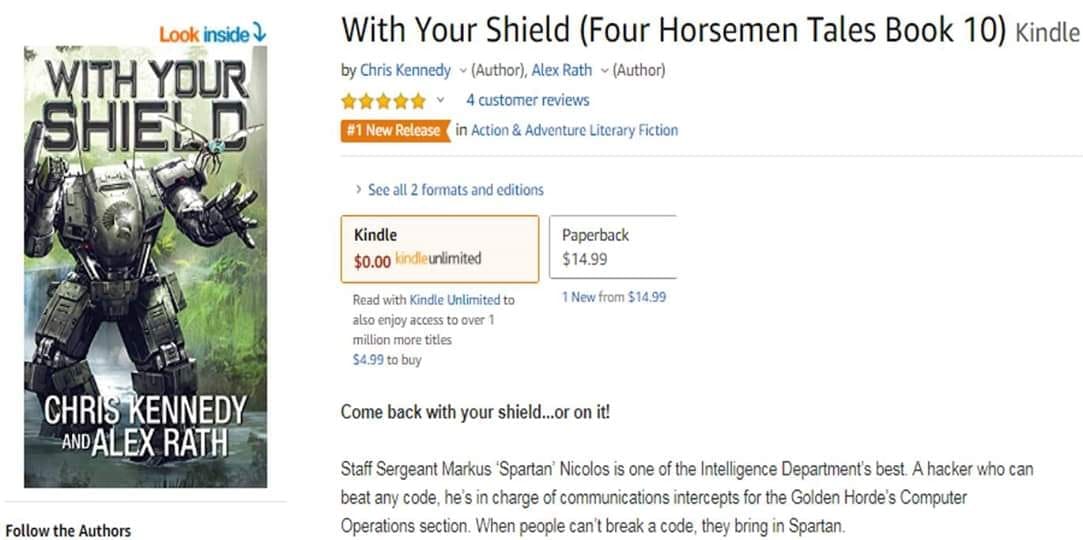 As of the time I'm writing this, we now have 24 very positive reviews, which obviously feel very good, and I'm extremely excited about. Here are a few that really stand out for me.
Yet another super entry in the 4hu series of books. Alex Rath makes a great debut as a writer and is backed by Chris Kennedy, author extraordinaire! If you like a James Bond Q type character who is as combat able as he is tech smart this is the book for you. Ian Fleming would be proud. A story of finding you the path fits well into the legends of the Golden Horde providing a chance at changing yourself and your past. Can't wait to read more.
– Doug Triplett, Amazon Review
And this one, which really means a lot to me and took me completely off guard:
Chris Kennedy and Alex Rath have done a great job with integrating into an exciting story what the technicians and IT folks of the Golden Horde add to the success of the contract. When I started the book I had to pause as tech and IT stuff can be boring to me but low and behold the authors bring out how exciting and important logistics and technical work are to any fighting unit. I also applaud them for addressing the mental health/emotional damage that our war fighters carry in defending our freedoms. It is always easier to work on the debilitating aspects of this trauma from the third person. I think this book, from my perspective as a combat Veteran, would be helpful to any Veteran or non-Veteran who wishes to understand some of the struggles that a loved one may be going through. Great work guys!
– Ken, Amazon Review
The book is available here!
Now, for the promised news.
I have been working on a fantasy book in a world of my own making since I finished writing "With Your Shield" and it's been going well for a world-building effort; however, I will be changing that as of today. It hasn't been publicly announced, but a decision was made a few weeks ago, that there would be another 'Spartan' novel. I have some ideas of what it'll be, but that's about where it is at this point.
I've decided to put the fantasy work on-hold, and put my time into the next Four Horsemen Spartan centered novel, still based in the Golden Horde, which will take place in parallel with the Omega Wars of the series. Unlike "With Your Shield" this book will very likely require some knowledge of the universe, and the Omega Wars to truly get all the references that will be in it, but I'm still going to do my best to make sure it can be read as a one-off, without being left sitting and wondering what the heck I'm talking about.
To everyone who has bought and supported "With Your Shield," thank you so much! If you haven't, please check it out!